It's impossible to overstate the significance of the shirt within the context of men's style. For centuries – millennia, depending on how loosely it's defined – this simple garment has been providing men with a solid sartorial foundation that transcends time and trends. It has been the bedrock of wardrobes around the world and throughout the ages; the single constant in an ever-changing fashion landscape.
Today, the shirt's status as a menswear fundamental is firmly established. And as such, no self-respecting individual should be without a solid selection. The right rotation of shirts from the right roster of brands will see you through every conceivable situation in style. From general day-to-day dealings to the most momentous occasions of your life.
Below, we've rounded up the best men's shirt brands in the world right now. From the heritage haberdashers of London's shirtmaking capital, Jermyn Street, to the contemporary labels putting their own unique spin on this menswear classic. If you're in the market for a new dress shirt, casual shirt or just looking to revamp your shirting selection in general, these are the labels you need to know.
Casual Shirts
The casual shirt is a staple of everyday life. It's something you can just throw on and forget about, safe in the knowledge that it looks good. Shopping for one is pretty straightforward and the main considerations you'll need to make are fit, style and price.
A well-fitting casual shirt should be slim, but with enough room underneath to layer a T-shirt if you decide to. The shoulder seams should sit right at the point where your shoulder meets your upper arm and the hem at the back should sit no lower than halfway down your backside.
Style-wise, think about when you're intending to wear the shirt in question. If you're off on a summer vacation, a heavy corduroy shirt isn't going to be the best tool for the job. Likewise, if you're refreshing your winter wardrobe, you should steer clear of camp collars and florals.
Last but not least, price. It's always best to spend what you can and get the best possible garment you can afford. This will serve you better than buying several cheap shirts in the long run.
Everlane
A staunch advocate of both ethical, traceable production and the benefits of a simple approach to style, Everlane makes clothing you can feel good about investing in. The brand's selection of shirts covers everything from classic Oxford button-downs to overshirts and brushed flannels and the direct-to-consumer model means that prices are very wallet-friendly.
You can even check out the factory where your chosen shirt was made using a tool on the Everlane website, which will provide valuable peace of mind for ethically conscious shoppers.
Buy now at Everlane
Asket
If you're a fan of that Scandi minimalist aesthetic then there are few brands better suited to supply your shirts than Asket. The Swedish label's entire philosophy revolves around the idea of a minimal capsule wardrobe, which means it produces only garments it deems to be essentials and does so to extremely high standards.
The result is a tightly curated range of high-quality clothing that features everything a man needs and nothing he doesn't. Naturally, the Oxford shirt, linen shirt, denim shirt and overshirt fit the bill and so are all part of Asket's permanent collection.
Buy now at Asket
Filson
From the Klondike Gold Rush to the hipster coffee shops of East London, Filson's high-end outdoor garb has a varied yet loyal following that spans well over a century. Why? Well, when your output is as consistently stylish, rugged and timeless as Filson's is, it's impossible not to amass a strong fanbase.
Robust, lumberjack-friendly shirting has long been one of the American brand's trademarks, so if you're looking for a flannel shirt and want the real deal, this is the label to buy from.
Buy now at Filson
Uniqlo
It's not like us to recommend cheap garments. We'd usually suggest opting for quality over quantity. However, it's difficult to ignore the value offered by Uniqlo when it comes to refreshing your shirt rotation. The Japanese high-street brand has a reputation for producing great shirts at extremely competitive prices, from wintery flannels and fleece overshirts to classic Oxford button-downs.
You can expect to be left with change from £30, which makes it a great place to stock up on everyday shirts for work and general daily duties. And don't forget to check out the brand's 'U' collection for something with more of a fashion-forward twist.
Buy now at Uniqlo
Reiss
British retailer Reiss is always a solid bet for beautifully designed premium clothing at affordable prices. The aesthetic is classic but often with a subtle contemporary edge and quality that far exceeds that of any of the other usual high-street suspects.
The label's shirting range includes everything from summery camp-collars to heavy overshirts for winter layering and price points belie this level of craftsmanship and design.
Buy now at Reiss
Orlebar Brown
British brand Orlebar Brown is known first and foremost for its premium, tailored swimwear. However, since its inception in 2007, the label's range has expanded to include everything from knitwear to shirting too. Orlebar Brown's shirts work on the same principle that made its swimwear a success; they're laid-back enough to be worn poolside or on the beach, but wouldn't look out of place in the city either.
Being, at its core, a resortwear label, linen and short-sleeve shirts are Orlebar Brown's bread and butter, but there are plenty of heavier options perfect for carrying you through the cooler months too.
Buy now at Orlebar Brown
A.P.C.
Jean Touitou's A.P.C. is living proof that less is more. Over the past 30 years, the Parisian brand has made a name for itself as the go-to for high-quality, low-fuss wardrobe staples that just ooze laid-back European charm. Granted, you may come across the odd logo sweatshirt or Kanye West collab, but on the whole, A.P.C.'s garb is stripped-back, refined and achingly tasteful.
Shirts have long been a key part of the brand's output and you can expect them to be well-made, understated and stylish.
Buy now at FarFetch
NN07
Scandinavian label NN07's understated yet contemporary take on the classics is responsible for some of the best casual shirting around. The Danish brand often works with textured fabrics, like flannel and corduroy, and tends to employ a simple, muted colour palette. Think earthy tones, dark autumnal shades and monochrome.
Branding is kept subtle, with a small logo tab to the side of most shirts and fit options range from slim to standard. There are no gimmicks or anything overly trend-driven, just quality shirts built to stand the test of time.
Buy now at END.
Sunspel
Sunspel's signature brand of premium wardrobe basics has made it the discerning man's go-to outfitter for everything from plain T-shirts to joggers. Shirts are no exception either. In fact, the British label's are some of the best around. From classic Oxford button-downs to winter-ready flannels and corduroy options, all of Sunspel's shirts boast the same blend of simplicity and premium quality seen across the entirety of the brand's range.
Don't expect crazy colours or bold branding. Do expect high-quality, classic cuts, European craftsmanship and timeless, versatile styling.
Buy now at Sunspel
Polo Ralph Lauren
Polo Ralph Lauren is a brand that needs no introduction. If you don't already own one of the preppy New York label's iconic Oxford button-down shirts then you're a bit late to the party. But not too late. With its instantly recognisable polo-player chest logo, the Polo Ralph Lauren OCBD is a time-honoured wardrobe staple. It comes in a range of fits to cater for all manner of preferences and body types and is versatile enough to dress up or down with ease.
But Polo Ralph Lauren's shirting credentials don't end there. Keep your eyes peeled for printed short-sleeves, patterned flannels and heavier options like denim and cord too.
Buy now at MATCHESFASHION
Dress Shirts
Tailoring is becoming less common in the workplace, but even if you don't have to squeeze into a suit for work, society dictates that you will still need to call on a dress shirt now and then. When that time comes, it's a good idea to have some quality options at your disposal.
Much like when shopping for a casual shirt, the key areas to consider before parting with your cash are fit, style and cost.
A good dress shirt should fit much like a casual shirt. The main difference is that it should be longer in the body so that it doesn't come untucked when sitting or moving around.
It's also important to think about the style of shirt. A lot of dress shirts are very similar but there are subtle design details like collar shape and cuff type to take into account. Colour is important too. The best colours for dress shirts are white, pastel shades and possibly even black, depending on the occasion. If in doubt, opt for white or light blue.
In terms of budget, again, spend what you can afford. A good quality dress shirt might seem expensive but when you're still pulling it out of the wardrobe in 10 years' time, the cost will have been justified.
Charvet
The dress shirt is steeped in tradition and heritage and Charvet is a big part of the story. The French shirtmaker became the first shirt shop in the world when it opened its doors in 1838 and it has been producing some of the finest button-ups money can buy ever since.
Charvet's exceptionally well-made shirts have been worn by everyone from royalty to world leaders and have earned a global reputation for their high-end craftsmanship.
Buy now at MR PORTER
Turnbull & Asser
If you want to look like Bond in a tuxedo, where better to buy your dress shirts from than the shirtmaker that kitted him out? Jermyn Street heavyweight Turnbull & Asser is one of the foremost shirting labels in the world and has been honing its craft for almost 150 years. The brand invented the famous cocktail cuff for 007 and even has a royal warrant thanks to the Prince of Wales, who has been buying his shirts there since his youth.
Buy now at MR PORTER
Suitsupply
Amsterdam's Suitsupply works with some Europe's finest fabric mills to create high-end garments at affordable prices. The label's dress shirt offering is split up into three categories: Classic, Luxury and Tuxedo.
The Classic range includes well-priced, everyday formal shirts for work and special occasions. Meanwhile, the Luxury range focuses again on classic styles, but using premium fabrics, such as sea island cotton and Egyptian cotton. The Tuxedo collection does exactly what it says on the tin, featuring traditional formal shirts to pair with black tie eveningwear.
Buy now at Suitsupply
Emma Willis
Emma Willis is the first – and so far only – female shirtmaker to have opened a shop in London's shirting capital, Jermyn Street. Her work has earned her enormous respect within the menswear world and her client list reads like a who's who of men's style.
The label offers both bespoke and ready-to-wear shirts, all of which are carefully handmade in England. If it's good enough for the likes of David Gandy and Daniel Craig, it's good enough for us.
Buy now at MR PORTER
Eton
Sweden's Eton has been producing premium dress shirts since 1928. In that time, it's got pretty good at its craft. The label's shirts are made from the finest materials and put together using state-of-the-art technology to guarantee perfection.
Fit-wise, shoppers can choose from four different cuts to ensure the right fit for any body type and the high-quality construction means they're all built to last.
Buy now at Flannels
Canali
Those Italians certainly know their way around a bit of tailoring and shirts are no exception. Since the 1930s, Canali has been making luxury suits, shirts and tailoring accessories to cater for the world's most discerning dressers.
The label's understated elegance has made it a firm favourite of those who like to let the quality and cut of their clothing do the talking and it's shirting range is a prime example. Expect only the very best materials, Italian craftsmanship and next-level attention to detail.
Buy now at MR PORTER
Tom Ford
Tom Ford's sexy, ultra-refined take on tailoring is marketed as the high-water mark for designer menswear. It's a bold way to position your brand, but where Tom Ford is concerned it's actually bang on the money. The brand's dress shirts are crisp, sharp, classic and really about as good as it gets. It may not be Jermyn Street, but it has an edge and attitude that a lot of heritage shirtmakers lack.
Put simply, if you're looking for the best and most stylish dress shirt money can buy, this is where you should be shopping.
Buy now at FarFetch
Marks & Spencer
Shopping for formal shirts can quickly become an expensive business. If you're on a tight budget or just looking to stock your work wardrobe up without bankrupting yourself, it can feel like the cards are stacked against you. That's where Marks & Spencer comes in. The British high-street mainstay has managed to strike a perfect balance between quality and affordability, making it the first port of call for many a budget-conscious sartorialist.
Buy now at Marks & Spencer
Hawes & Curtis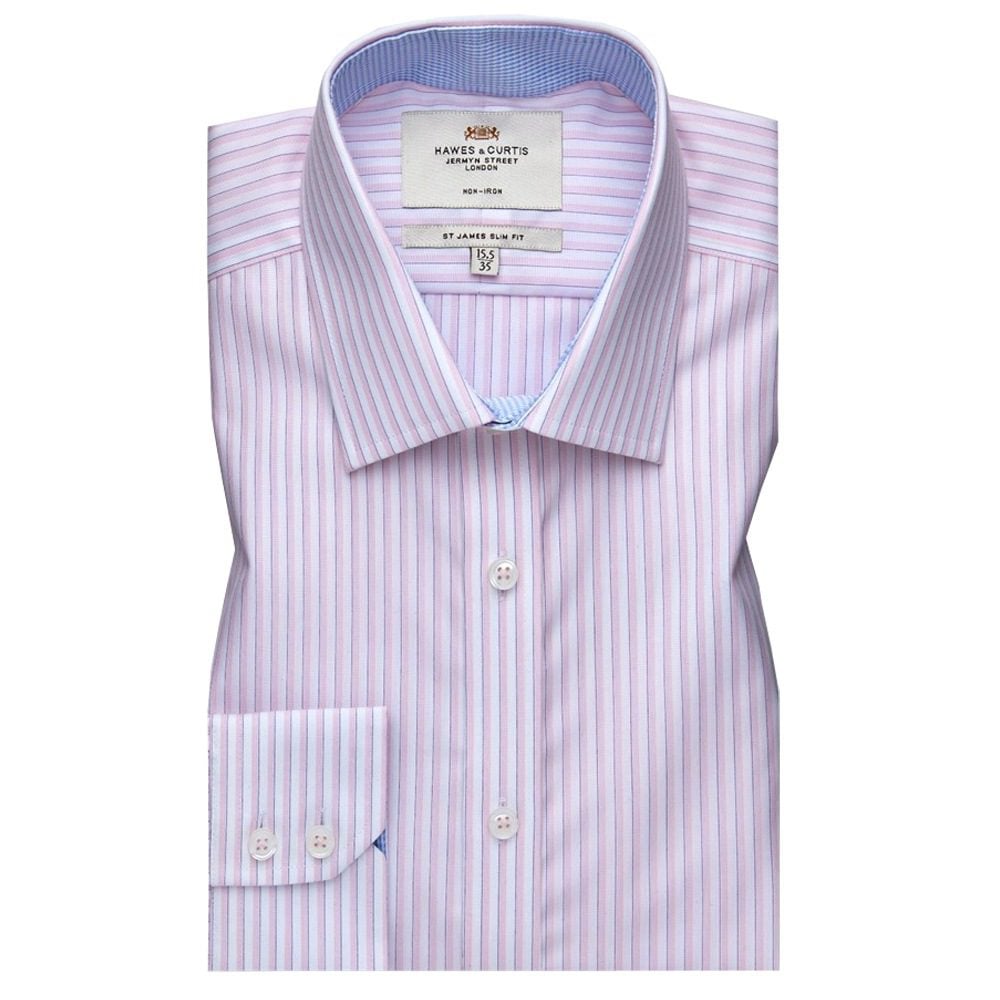 Founded in 1913, Hawes & Curtis is the original Jermyn Street shirtmaker and one of the most historic outfitters in London. Compared to other heritage labels on the street, its prices are wildly affordable and there are frequent multi-buy deals on dress shirts. This makes it possible to get a shirt from a traditional shirtmaker with some real clout without breaking the bank. Which is no easy feat in such a luxury dominated market, we're sure you'll agree.
Buy now at Amazon